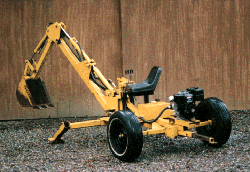 CADDigger Model 728 TECHNICAL SPECIFICATIONS
Width with Stabilizers
84 in.
Weight (approx.)
700 lbs.
Digging Depth, Limited Lift
72 in.
Width without Stabilizers
31 in.
Reach
122 in.
Lateral Swing
120 degrees arc
Height to Seat
34 in.
Transmission
none
Engine
7 hp minimum
Height to Controls
42 in.
Wheels
14 in. Car Tire
Standard Bucket Width
14 in.
Loading Height
64 in.
Ripping Power
3000 lb.
Slicing Power
2-3 in. oak root
Length Overall
140 in.
Digging Depth, Normal
60 in.
-
-
Length of Frame
80 in.
-
-
-
-
NOTICE: as CADplans cannot control the skills of the builder, or the end use of the machine, CADplans makes no warranty stated or implied and the builder must assume all liability for safe construction, safety features and operation of theCADDigger. CADplans is not responsible for typographical errors.

All CADDigger orders include the following:
Spiral bound plans, including written instructions, raw material requirements, purchased equipment specifications (generic and part numbers) and photos
Instructional video
Itemized price lists from the steel and hydraulics vendors with various kit combinations available
| RETURN TO CADDiggers Main Page |

Copyright © 1999 - All Rights Reserved